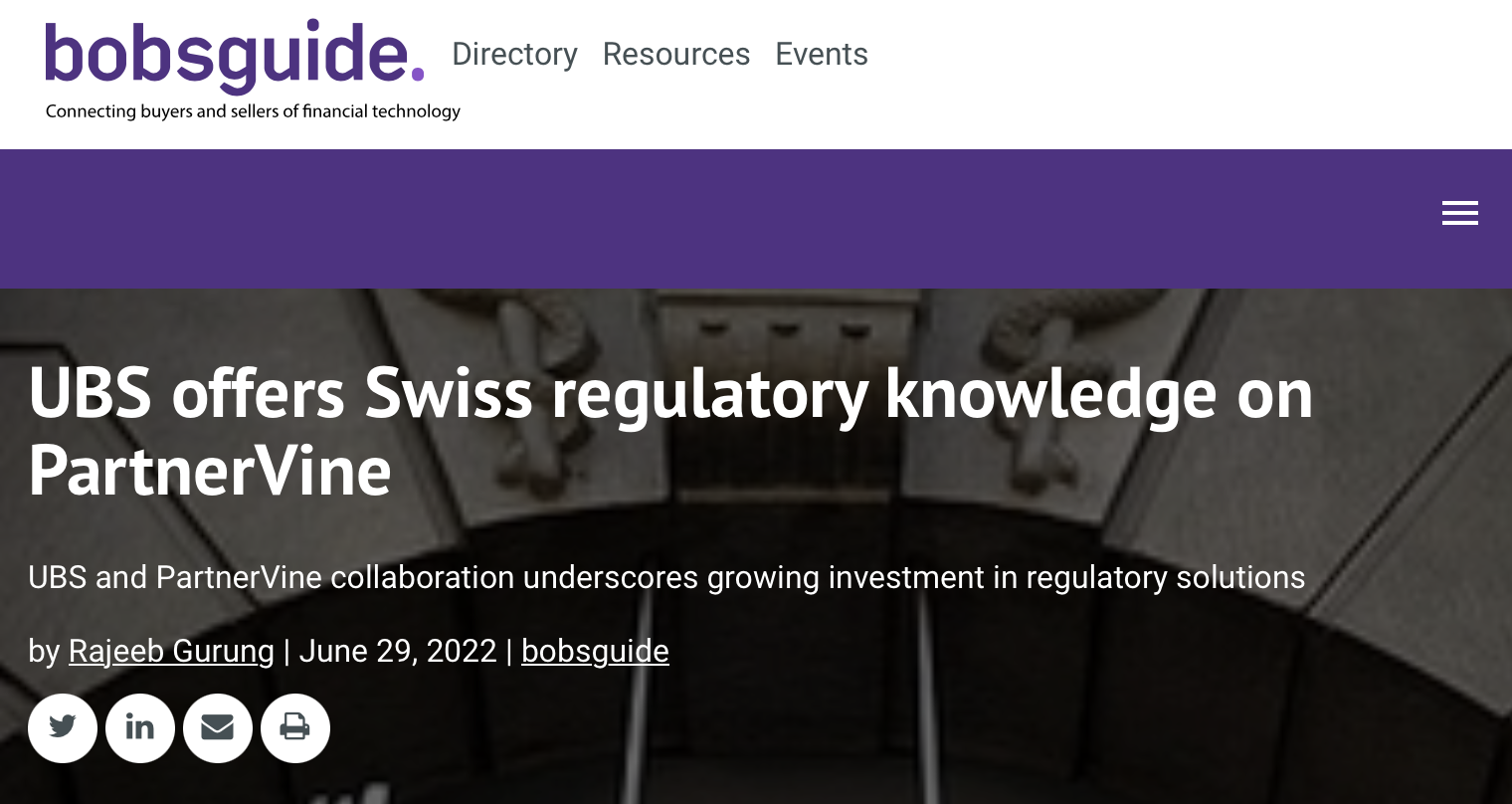 UBS has partnered with Swiss legal information products marketplace, PartnerVine, to make its regulatory knowledge available on the latter's platform.
The partnership will enable customers to access UBS's Swiss regulatory expertise on the Financial Services Act (FinSA), Financial Institutions Act (FinIA) and revised Collective Investment Schemes Act (revCISA).
According to Jordan Urstadt, CEO of PartnerVine, the availability of the UBS knowledge base in PartnerVine will give Swiss financial firms a "much easier and cost-effective" alternative to developing the knowledge themselves.
The UBS knowledge collection comprises more than 630 questions and answers developed for Swiss financial service providers.
The collection includes decision trees, glossary, tables, graphics, and cross-references to related topics.
While the bank's regulatory knowledge will be available in English, sample operational documents and client-facing forms will be available in English, German, French and Italian languages.
PartnerVine is an online platform that provides educational materials from law firms and service providers on legal topics.
UBS is the first bank to provide its knowledge materials on the platform.
Regtech firms experience growth, but free resources highly sought after
The Swiss bank's decision to sell its regulatory knowledge on the platform comes amid the growing adoption of regtech by both the financial and non-financial firms as they seek to boost compliance efficiency in a timely and cost-efficient manner.
According to Thomson Reuters' fintech, regtech and the role of compliance report 2022, 49% of respondents are contemplating the use of regtech services, up from 34% in the previous year.
Additionally, the annual compliance health check report by SteelEye, a compliance and data analytics platform, also revealed that 44% of respondents are planning to invest in more regtech solutions in the next 12 months.
The increasing incorporation of regtech has created opportunities for financial firms and regulatory services providers to deliver technology-based solutions.
In March, Dutch investor Main Capital partners combined Swedish SaaS platform Blike and German internal audit software developer, audimex, to launch a governance, risk, and compliance-specialized software entity.
In May, US investor Genstar Capital consolidated two GRC advisors ACA Group and Foreside to establish a united company serving 6,300 clients.
Private equity firm Hg is also currently in the process of acquiring London-listed regtech Ideagen for £1.1 billion.
Banks bolster compliance with technology partnerships
Beyond a flow of investor assets into regtech, banks have remained open to the services for the last few years.
Spanish bank BBVA has partnered with Wolter Kluwer's OneSumX for regulatory reporting in the US since 2019.
BNP Paribas, Credit Agricole, Goldman Sachs, and UBS, were among the six banks to adopt Droit Financial technologies' fully digitised MiFID II trade compliance engine in 2018.
In 2021, Barclays upgraded its regulatory capabilities by rolling out an automated policy management and compliance technology from its long-term partner Clausematch.
That same year, HSBC partnered with Silent Eight to leverage the latter's AI-based technology to strengthen the bank's compliance function.
Most recently in June, Swiss bank Basellandschaftliche Kantonalbank selected compatriot NetGuardians to utilise the latter's fraud mitigation software against payment scam threats.
[The article on Bob's Guide can be read here. This article is published with a canonical tag so that Artificial Lawyer receives SEO credit for the content it produces.]