Running a Facebook or Instagram contest is not as simple as throwing your existing contest onto a Facebook page. There are Facebook- and Instagram-specific rules you must follow.
Continue reading below to find out how you can convert your existing contest into a Facebook contest or Instagram contest that won't get taken down the moment you launch it.
Before we start, we should note that this article is intended for readers in Canada. Although Facebook and Instagram are global companies, promotional contests are regulated by local laws and regulations. We focus on Facebook and Instagram's rules in this article, but do refer to local laws and regulations. When we discuss laws and regulations, we discuss laws and regulations in Canada. This article assumes compliance with Canadian legislation and regulation. For more information on Canadian legislation and regulation for promotional contests, see our article Promotional Contest Rules in Canada.
Facebook
With 2.6 billion active monthly users, Facebook remains the world's largest and most active social network. It's a prime platform for your next promotional contest.
Facebook Contest Rules
At the outset, Facebook contests may not be run on personal timelines. You must use a Page, Group, Event, or App to administer your promotion.
Facebook's Pages, Groups and Events Policies page lists their most basic rules for running a promotional contest. Briefly, you must:
Include with your promotion official rules that comply with all regulations and legislation of the province in which your contest takes place
Clearly indicate the offer terms and eligibility requirements of the promotional contest
Include a liability release of Facebook by each entrant
Include an acknowledgement that Facebook is not sponsoring, endorsing, or administering your contest in any way
Clarify that any personal information or content is being collected by you and not Facebook
Secure the necessary permissions and consents from contest participants to use their information and content
We'll expand on each of these rules below.
Official Rules
All Facebook contests and Instagram contests must contain a notice of the official rules and regulations of the contest. What you put in your official rules will depend on where you offer your contest. Assuming you're limiting eligibility to Canadian residents, you'll want to remember to include in your official rules:
Eligibility requirements
Methods of entry
Conditions to satisfy before participants can win
Privacy notice
Precise contest times (to the second), dates, and duration
Circumstances, time, and place of winner selection
How alternate winners will be selected
A detailed, complete, and full description of prizes and their value
General prize conditions
Products involved in the contest
Specific rules for minors (if their participation is permitted)
Specific rules for Quebec (if the contest is offered there)
A clause allowing the contest promoter to void or modify the contest
Rules about intellectual property (if necessary)
Liability limitations and releases
(Check out our article on Promotional Contest Rules in Canada for a more complete discussion of this topic.)
Terms and Eligibility Requirements
You should pay particular attention to whether your official rules cover the terms of participation and eligibility requirements (age, residency, etc.) of your contest.
Facebook does not permit the following types of promotional participation:
"Share on your Timeline to enter"
"Share on your friend's Timeline for additional entries"
"Tag your friends to enter"
"Tag yourself in a photo to enter"
In short, any use of personal timelines or Friend connections to promote a contest are prohibited.
Release of Facebook
Your Facebook contest must include a liability release of Facebook by all entrants and participants. Note that Facebook does not provide a template or sample release clause, so you'll need to give some thought to how you'd like to phrase yours.
Other contests have used simple clauses like:
By participating in this promotion, you agree to a complete release of Facebook from any claims.
Acknowledgement of Facebook's lack of sponsorship
Your Facebook contest must include an acknowledgement that Facebook does not sponsor, endorse, or administer your contest. Again, they do not offer a sample acknowledgment, but other contests have used basic clauses like:
This Contest is in no way sponsored, endorsed or administered by, or associated with, Facebook.
Clarification of your collection of info and content
Your Facebook contest must explicitly and clearly state that information and content submitted by contest participants is being collected by you and not by Facebook.
Get consent to use info and content
Your Facebook contest must get the consent of participants to use any personal information they provide and any content they submit pursuant to the contest.
Instagram
One billion people use Instagram each month. Over 500 million of those will use Instagram Stories every day. And its photo-heavy format makes the platform ideal for hosting contests.
Instagram Contest Rules
Instagram's Promotion Guidelines page lists the rules for hosting an Instagram contest. At a minimum, you must:
Create and maintain official rules that are compatible with the legislation in the country and province in which your contest takes place
Create offer terms and eligibility requirements that comply with all applicable legislation
Refrain from encouraging users to inappropriately or inaccurately tag content
Include a liability release of Instagram by all entrants as a condition of entry
Include an acknowledgement that Instagram does not endorse, administer, or sponsor your contest
Inaccurate Tagging
Instagram allows you to tag content with people or businesses that are relevant to the photo you're looking at. Instagram prohibits you from running contests in which you encourage users to tag photos with businesses or people that have nothing to do with the content.
For example, a business might run a contest encouraging entrants to tag random photos with the contest operator's business to gain exposure. Such a contest is contrary to Instagram rules and would be removed from Instagram.
Other Rules
The other Instagram rules are similar or identical to the rules facing those who wish to host contests on Facebook. That's not surprising, given the fact that Facebook owns Instagram.
For a fuller description of how to apply most of these rules, scroll up to the section entitled Facebook Contest Rules. They apply to Instagram just as they apply to Facebook.
Compliance Tips
Here's some practical and useful guidance on how to avoid running afoul of Facebook and Instagram rules.
Create Mini-Rules
Create a set of Mini-Rules that are visible before a potential entrant joins your contest. For a Facebook contest or Instagram contest in Canada, the Mini-Rules should contain:
Purchase requirements
Technical requirements
Contest dates
Eligibility requirements
A requirement for winners to sign a liability release
A requirement for winners to answer a skill-testing question
The number and value of prizes
Odds
A link to the full rules
Release of Facebook by any entrant
Acknowledgement of Facebook's lack of sponsorship, endorsement
A declaration that information and content is being collected by you and not by Facebook
Consent to use of personal information and content pursuant to Official Rules
Most of these rules are required by Canadian legislation (see our full article on Promotional Contests in Canada for a more complete explanation) but they also incorporate Facebook- and Instagram-specific notifications for your entrants.
The image below is a Mini-Rules checklist for promotional contests in Canada on Facebook or Instagram: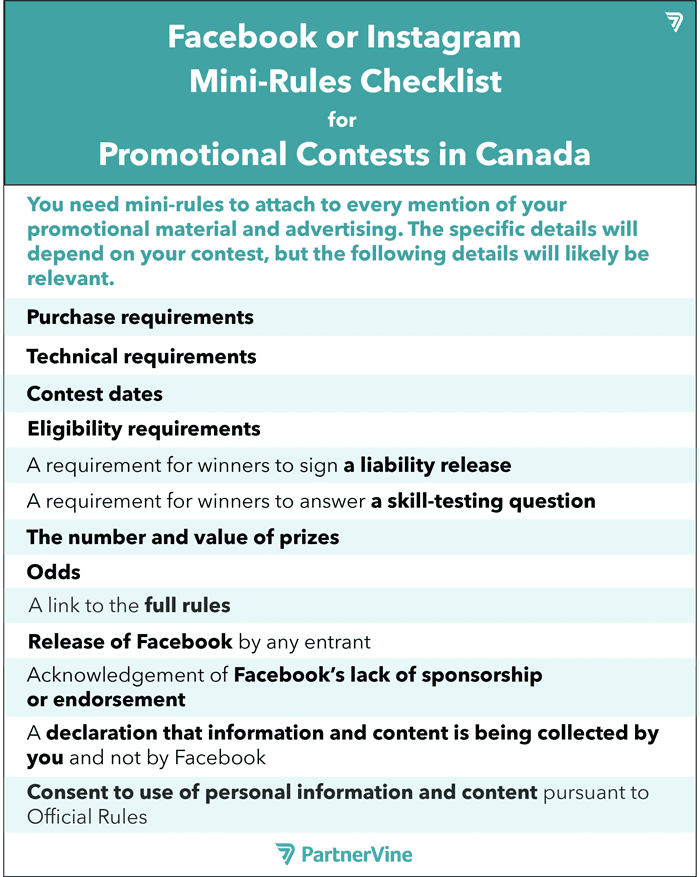 Create an Official Rules Landing Page
Design and publish a landing page that can be accessed with a single link click from your Mini-Rules. The landing page should contain all the official rules of your contest, whether Facebook- or Instagram-specific or not. In other words, a person should be able to access a full listing of your contest's rules with a single, obvious action.
Create a Data Collection and Use Policy
On the same landing page as your Official Rules, you should include a clear statement of your data and privacy policies. It should include a full description of what data you're collecting and retaining, as well as an assignment of all intellectual property rights over the submitted content to you, the contest promoter.
The policy should include a consent by the entrant for you to collect and use their personal information in accordance with the Official Rules.
Final Thoughts
While running a contest on Facebook or Instagram involves a few extra steps, there's nothing terribly onerous about the additional hoops you'll need to jump through. If you've already ensured that your contest complies with applicable Canadian legislation and regulation, then it's a relatively simple matter to confirm that you're not going to run afoul of social media contest rules.

Further Resources
For information on Contest Creator, the product from Gowling WLG that generates rules for promotional contests, go to the Contest Creator product page.
For a review of Contest Creator, see our article Review of Gowling WLG's Contest Creator.
For information on the rules for promotional contests in Canada, see our short article Contests or Sweepstakes in Canada or our longer article Promotional Contest Rules in Canada.
For frequently asked questions on promotional contests in Canada, see Promotional Contests in Canada: FAQs.
To understand how to run your contest in Quebec, see Publicity contests in Quebec. For information on Quebec's language requirements, see our article Quebec's French Requirements.
Legal Information
Finally, a note on how you can use this article. This article is not to be considered legal advice and is not a substitute for advice from qualified legal counsel. Material aspects of the discussions in this article may change at any time and without further notice.