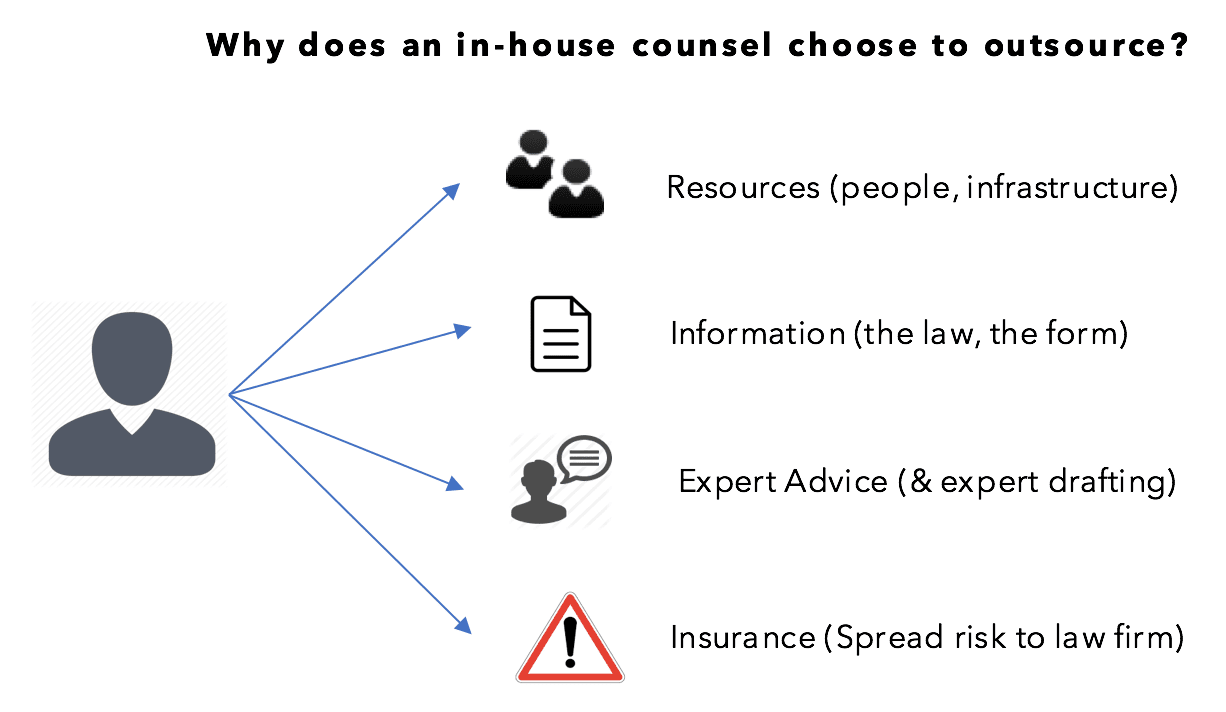 The graphic above describes the four reasons, let's take a closer look:
Resources. Can I or members of my team do the work? Do we have the time to do it, and for my team, do I trust they can do it well? When I was managing my team and we needed to negotiate a side letter with Wachtell, I wouldn't ask a junior member of my team to do it. You need not just a person, but the right person for the job.


Information. Do I have the information to do the job? If it was something I've done a million times before, then we probably do, but often there are one or two clauses I'd need to either check personally or get updated. Most recent Brexit clause anyone?


Expert Advice. If I need expert advice, I'm going to have to hire it. When you're running a large company, you don't freelance somewhere you don't have the expertise. If I need German tax advice, I hire it—my hourly rate is too expensive to justify learning the ins and outs of German taxes. Everyone has their own comfort zone, but at some point you have to start talking to the people that have the knowledge.


Insurance. For some projects, I want a law firm helping me because my firm shouldn't bear all of the legal risk. When you want to be really formal, you spend $20k and get a legal opinion, but there are plenty of times where getting a good firm on-board is like preventive medicine. When the deals get bigger, the cost of that extra insurance starts to make a lot of sense.
We put together PartnerVine to try to get more information in the hands of in-house counsel. After all, it shouldn't be hard to get information in the age of Google—it isn't in any other field.
When it comes to expert advice and insurance, you still need good legal advice and a law firm at the end of the day. We hope we can help there by introducing you to the innovative firms that are selling their docs on PartnerVine.
Where am I coming from? I spent twelve years as the general counsel of LGT Capital Partners and Capital Dynamics. I was responsible for all of the legal work, and managed somewhere between 35-50 major projects a year.