This article describes two automated employment agreements under Swiss law sold by PwC Switzerland on PartnerVine. If you want to go directly to the product pages, click below:
***
PwC Switzerland is selling two automated employment contracts under Swiss law on PartnerVine. This article describes what you get when you buy one of those automated employment agreements, and why you would choose the "long form" employment agreement or the "short form".
Difference between PwC's long and short forms
The long form employment agreement covers issues that come up for employees in mid- to senior- level positions, including:
entitlement to a bonus,
repayment of expenses,
use of a company car and
ability to benefit from additional insurance cover.
Those types of issues don't typically arise in junior-level positions. For instance, a junior employee generally doesn't have an entitlement to a bonus payment, although they may be paid a bonus at the employer's discretion. Similarly, repayment of expenses is usually a topic for more senior level employees that need to travel or entertain for business development or manage expenses within a team. Junior-level employees don't usually have specific language in respect of the repayment of expenses. Company cars and additional insurance cover are also issues that are typically negotiated with more senior employees and don't apply at the entry level.
The long form interview has five more first-level questions than the short form. Those five questions provide access to additional questions and fields to cover the long form issues. The number of questions and fields you end up using depends on your answers. If you're not sure if you need the issues covered in the long form employment agreement, it makes sense to purchase the long form so you can familiarize yourself with the longer list of issues. If you don't think you'll need to address those issues, purchase the short form employment agreement and save some money.
User Experience
The employment contracts follow a user-friendly interview format. The interview leads you through questions that involve 'nested' decision trees, so your answer opens up further questions and information based on your choices. The software saves you time by steering you through questions relevant to your responses, and mitigates the risk of errors by leading you through PwC's extensive checklist of issues.
Some fields are structured as multiple choices questions (e.g. "Yes" or "No"), an example of which is below.

Other questions are open, like an "Employee's function or job title.

For many questions, there are links to information from PwC, which provide you with the knowledge management resources of PwC delivered with software. An example of additional information when you click on the information button for the answer "no compensation for overtime" is below:

After answering the questions, PwC's software leads you to a page showing the contract you have generated with links to each answer and a summary of your interview. That summary page lets you review what you've done and make changes easily.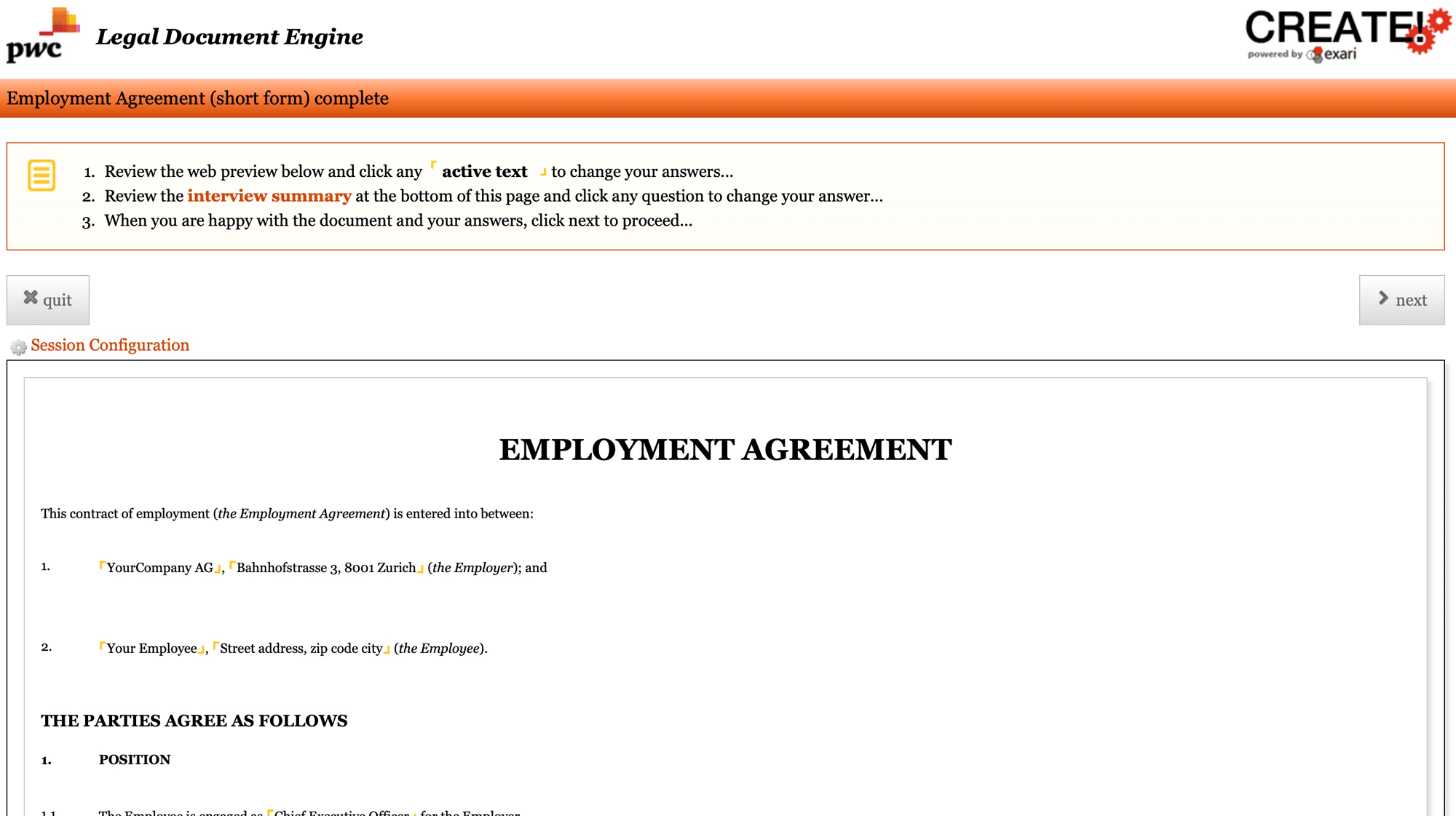 If you move beyond the summary contract page, you will be able to download, review and print the agreement as many times as you'd like during the 90 days you have access to the software. The document can be downloaded as a Microsoft Word document or a pdf.

Savings
PwC has estimated the time and money you'll save with the "Relative Advantage Calculator" listed on each product page. PwC estimates the person drafting the agreement will save 5 hours with the long form and 3 hours with the short form employment agreement, which results in savings of CHF 1,431 and CHF 1,006 if the value of that person's time is CHF 350 per hour and they only use the software once. If the value of that person's time is more than CHF 350 or the person drafting the agreement uses the software more than once, the savings increase dramatically because the expense of your software stays the same.
You can find the Relative Advantage Calculators on each of PwC's product pages. There are links to the employment agreements under "Related Products" at the end of this article. You can change the assumptions in the calculator to fit your situation. If you'd like more information on the Relative Advantage Calculator, you can read our article here. The article describes not just savings in time and money, but also benefits that the calculator does not quantify like risk mitigation and upskilling employees.
Further resources
If you'd like to try out an interview, PwC has automated its "Inter-Company Loan Agreement", which can be accessed by clicking "Preview Document" in the "Preview a Document" box on each of PwC's product pages. If you have further questions, you can contact PartnerVine by email, chat or our telephone hotline. The chat and telephone hotline are available 24/7.
Legal Information
Finally, a note on how you can use this article. This article is not to be considered legal advice and is not a substitute for advice from qualified legal counsel. Material aspects of the discussions in this article may change at any time and without further notice.